The Ministry of Health has given registered pharmaceutical producers until July 1, 2008 to raise their standards to the World Health Organization's Good Manufacturing Practices (GMP-WHO) and Good Storage Practices (GSP).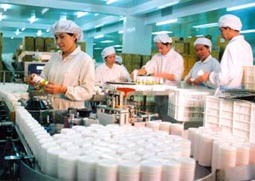 Producing medicine at Hau Giang Pharmaceutical Joint-Stock Company
Producers who adhere to the GMP-ASEAN (Association of Southeast Asian Nations) standards will be given certificates for the interim.

Drug importers and exporters will lose their licenses if they fail to apply GSP standards by the deadline.

In the case of herbal medicine producers, they will have to achieve GMP standards byl 2011 .

The ministry adds that all pharmacies, medical clinics and medical institutions must introduce GSP standards into their operations by January 1, 2010.