Endocrine disorders have caused combustion on hair of a schoolgirl reaching puberty in the northern province of Nam Dinh, according to four Vietnamese scientists.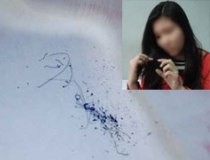 The girl and her burnt hair
Researcher Nguyen Phuc Giac Hai and three telepathy researchers from the Center for Human Abilities Research in Ha Noi said this on Tuesday after checking the 15-year-old girl in her province.
They said her endocrine disorders caused some hot flows inside her body, resulting in some smoke from her hair. They are now staying in the province to help her reduce headaches and continue their research.
Several days ago, the girl was discharged from a provincial hospital after doctors found nothing unusual with her health. Her temperature and blood pressure were at normal levels.
Related article
Hair Burns Itself