Rice vermicelli producers and distributors have made a pledge to the Departments of Health and Industry and Trade in Ho Chi Minh City, not to use any harmful chemicals in their products.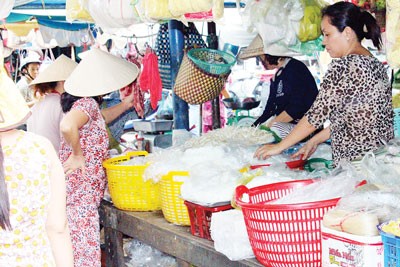 A rice vermicelli stand in a market in District 10. (Photo: SGGP)
According to preliminary statistics, there are more than 400 facilities producing vermicelli and fresh cakes made from rice in the City.
Recently, health watchdogs uncovered that most of the rice vermicelli being sold in the markets was contaminated with Tinopal which is mostly used in detergent manufacturing.
Food experts say that making rice vermicelli in the traditional way, without using chemicals, can still bring a delicious taste. However, in order to increase sales and make their products more attractive, brighter, and shinier, manufacturers began adding Tinopal.
Nguyen Thi Huynh Mai, Deputy Head of the City Department for Food Safety and Hygiene, emphasized that if vermicelli facilities make rice products from high-quality rice and in accordance with the right process, they do not have to use any food additives.