The Ministry of Health has so far identified the 'Ricketsia' virus as cause of the bizarre skin disease that has afflicted residents in the central province of Quang Ngai, said a health official on April 24.
Pham Hong Phuong, director of the Department of Health in Quang Ngai Province, said that medical experts have initially identified the Risketsia virus as cause of the baffling skin disease in Ba Dien Commune in Ba To District.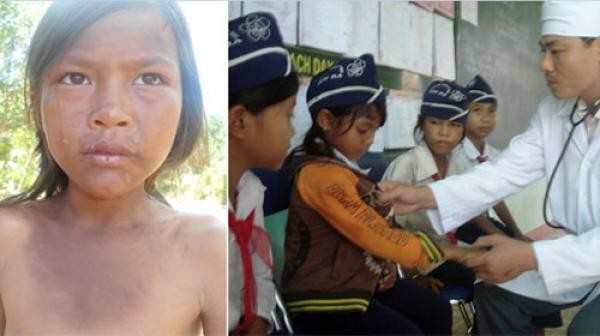 A medic examines bruises on students (Photo: Tuoi tre)
Of 26 blood samples taken of patients, 14 tested positive for Ricketsia virus, with 30 per cent of the samples showing small and fragile red blood cells that could have caused death in patients.
Till April 24, Quang Ngai Province had reported 172 cases of the skin disease infection, eight of whom had died at medical clinics and 11 having died at home. The disease begins with a rash on the hands and feet, and progresses to affect and damage the liver and subsequently damages other body organs.
As the disease develops unpredictably, the province leaders have decided to equip the General Hospital with a blood filtering machine for reducing fatalities.
In addition, the province will support 5 per cent of the health insurance expenses of patients affected with this mysterious skin disease and being treated at the Quy Hoa National Leprosy Dermatology Hospital.
As scheduled, the ministry will send a mission team to the province on April 24 to continue finding out the causes of the disease.
Meantime, another strange disease occurred in Son Ha District of Quang Ngai Province. Many people are beginning to suffer bruises in feet, hands and face without any clear cause. The disease has hospitalised 19 students so far.
Medical workers in district centres examined and gave drugs to the students, but the cause of the disease is yet unknown. As of now, it is suspected to be a skin disease caused by contact with chemical herbicides.
Related articles:
Quang Ngai seeks expert advice on baffling skin disease
Vietnam to seek WHO help to diagnose strange skin disease 
Another succumbs to bizarre skin disease in Quang Nai Province
One more dead from strange skin disease in Quang Nai Province
Bizarre skin disease continues to spread