More than 200 traffic police officers in the south and central region have taken a course in first aid taught by medical staff from Cho Ray Hospital in Ho Chi Minh City.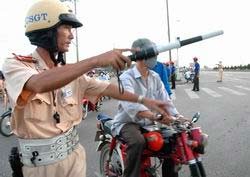 Traffic police with some knowledge of first aid will help treating injuries and keeping victims alive
On day one of the training, Cho Ray director Dr. Truong Van Viet pointed out that traffic police were among the first people on the scene of an accident so some knowledge of first aid was bound to be useful in treating injuries and keeping victims alive.
Pham Minh Tuan, the deputy head of the Railway and Road Department, said the course had much to offer and should lead to fewer fatalities on the road.
Since there are only 45 first-aid posts nationwide, and since their staff are insufficiently trained, it's no wonder that some accident victims die who might otherwise have lived had they received proper first aid.
The training for police in Binh Phuoc, Binh Duong, Kon Tum, Gia Lai, Dak Lak, Lam Dong, Binh Thuan and Ho Chi Minh City was arranged by the National Safe Roads Committee in partnership with Cho Ray Hospital.
A five-day course for road supervisors will be held sometime soon.