After the National Institute of Medicinal Materials (NIMM) under the Ministry of Health announced that a plant with scientific name Paramignya Trimera can cure five kinds of cancer, more and more people are flocking to Hon Heo Jungle in the central province of Khanh Hoa in search of the plant.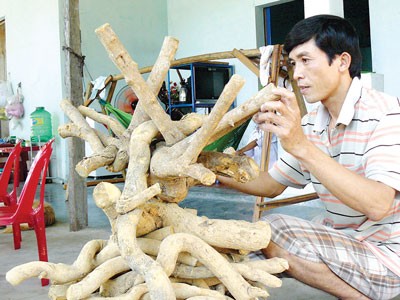 Roots of the cancer curing plant from Hon Heo Jungle (Photo: SGGP)
Le Hang, from the islet commune of Ninh Van in Ninh Hoa Town in Khanh Hoa Province suffered from severe cirrhosis but he recovered fully after drinking a decoction of a strange plant taken from Hon Heo Jungle that a friend of his had told him about.
The news spread quickly across the country, resulting in people flocking to Hon Heo Jungle to hunt for this plant. Since then the price of this plant has also gone up. People are hunting for the plant for cure as well as profits.
Traders streamed to Ninh Van Commune to purchase tons of the plant for patients in Ho Chi Minh City, Hanoi and the southern province of Binh Duong.
Houses in the commune are sometimes empty as owners have all gone out in search of the plant.
To lay credence to rumors, the NIMM conducted a research on the plant and announced the plant had indeed the ingredients to cure five types of cancer including Hep G2 liver carcinoma, breast MDA MB231, colon, ovary OVCAR-8 and cervical cancer Hela.
After this research result was announced, the plant is in big demand, and these days' local people only seem to talk about the plant. Nguyen Trong, a person who bought the plant, said before the announcement of the research result, the plant sold for VND250,000-VND300,000 but now it has gone up to VND400,000, but nobody wants to sell.
Authorities in Ninh Van Commune said the plant is facing extinction as people ruthlessly pull it from the roots. The high demand and price has led to the plundering of the plant.
However, people can also be deceived in buying the wrong plant, as many would be unable to detect the genuine plant. Nguyen Van Cuong, a local resident, said it is very difficult to distinguish, so patients should buy the plant rather than pieces of it.
To prevent rampant plundering of the precious medicinal herb plant, the People's Committee of Khanh Hoa Province has tried to raise people's awareness of the importance of preserving the rare plant, as well as set up stations to check the area.
The Departments of Health, Agriculture and Rural Development, Traditional Medicine Association, Border Guards and local government will mark areas for preservation and growing of the plant.