After two year implementation of satellite medical clinics, the country has 48 satellite hospitals that have made huge contribution to reduce of overloading in big hospitals.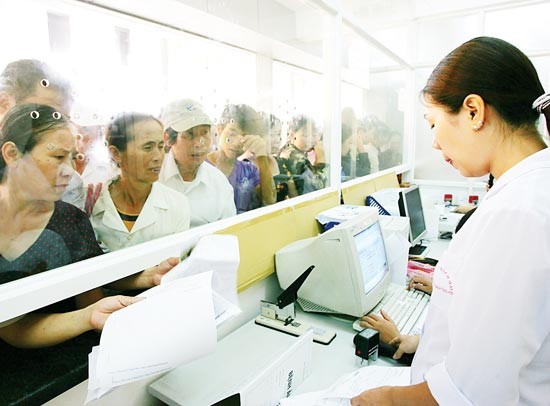 To develop more satellite hospital will help reduce overloading in major hospitals (Photo: Sggp)
14 major hospitals have transferred important techniques to their satellite hospitals for two years.
Director of Pho Noi General Hospital in the northern province of Hung Yen Dr. Nguyen Huu Hoang  said that his hospital doctors had received 46 techniques from their counterparts in Bach Mai hospital since Pho Noi Hospital became Bach Mai hospital's satellite clinic and more and more patients have visited the hospital.

Hence the rate of patients who have left Pho Noi hospital for big major hospitals  has reduced by 34.6 percent.

Director of the General Hospital in the northern province of Quang Ninh Dr. Nguyen Trong Dien said that his hospital physicians have been able to conduct difficult surgeries including broken thighbone, joint endoscopy, disc hernias, hear disease, brain injuries after hospital doctors were taught techniques by their counterparts in Viet Duc Hospital So doctors can save  "golden time" during rescuing patients' life.

Head of the Medical Examination and Treatment Department under the Ministry of health Luong Ngoc Khue said that after the success of satellite hospital models built from Viet Duc and Bach Mai hospitals the Ministry decided to implement a project to improve medical quality of clinics in communes and districts, contributing to reduce of overloading in major hospitals.

Some 48 important techniques of heart disease, trauma surgeries, cancer, obstetrics and pediatrics have been transferred to 14 satellite hospitals. This helps improving treatment quality in small hospitals to reduce transferring patients to central hospitals.

Mr. Khue said that though the project of setting up satellite hospitals and transferring techniques to small hospitals was just at the first stage, it proved to be effective as fewer patients have been sent to big hospitals for treatment.
The rate of transferring patients is just 30-35 percent or just 5-7percent in the General Hospital in the northern province of Phu Tho. The General Hospital in the central province of Ninh Thuan had to transfer 83 people suffering brain injuries to big hospitals in 2013; however, the number of transferred patients was 33 last year.

Currently only hospitals in Ho Chi Minh City and Hanoi participate in the project but in the near future more hospitals in provinces across the country will do so.