A southern village and a school in HCM City have become the latest victims of the swine flu outbreak. The disease is now officially spreading in parts of the community, away from friends and family of those who had previously been infected.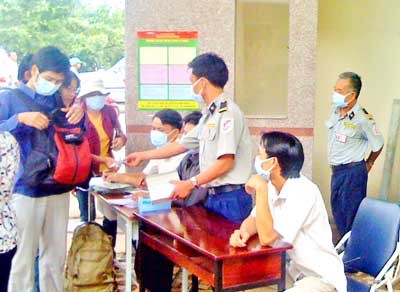 Students' relatives receive face masks before entering Ngo Thoi Nhien High School in HCM City(photo: SGGP)
With 70 recorded cases, the village of Viet Kieu, Xuan Hiep Ward in Xuan Loc District, the southern province of Dong Nai, has suffered heavily from the H1N1 flu outbreak.
Meanwhile, Ngo Thoi Nhiem High School in District 9, HCM City, has been closed off from the public.
With the situation having reached an alarming level, Health Minister Nguyen Quoc Trieu on July 20 flew to Ho Chi Minh City to personally oversee prevention operations, saying the H1N1 flu has spread more widely in the community.
Ngo Thoi Nhiem High School has been completely quarantined by police, local guards and soldiers.
Medical workers and teaching staff in protective clothing are taking care of ill students, with a total of 79 students and one teacher being isolated.
Five have presented flu-like symptoms of cough, running nose and fever.
The school has been divided into three sections; one is for healthy students, one for those who had had close contact with infected persons and an isolation ward.
Medics from the city's Preventive Health Department have sprayed disinfectant in the school, distributed face masks and hand soap in rest rooms.
In addition, near by pre-schools or kindergartens have been ordered to close for one week to ten days.
Most students come from provinces of the Highlands, including Dac Lac, Dac Nong, Lam Dong, the central province of Phu Yen and the southern province of Binh Duong.
Parents are anxious about their children, expecting to take their children home for care.
Nguyen Duc Van, from the Central city of Da Lat, whose two children are studying at the school, said his children are talking with him on the phone and want to come home as they are not ill.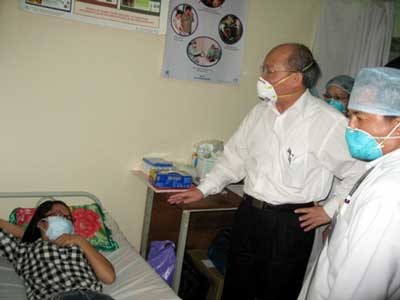 Health Minister Nguyen Quoc Trieu (C) visits a student at an isolation room at Ngo Thoi Nhiem High School in HCM City (photo: SGGP)
However, parents have agreed to let their children stay at the school after listening to professional advice from medics, said the school headmistress, Pham Thi Thuy Vinh.
On top of the school quarantined students and teachers, 41 infected students and teaching staff are receiving treatment in hospitals in the city.
What worries medical workers most is that 800 students have returned home to various provinces over the summer vacation.
The minister asked relevant agencies to track the address of those returning and send districts' preventive health departments to monitor the situation.
The ministry warned people to stay alert against the complicated developments of the epidemic.
Vietnam reported July 20 an additional 25 swine flu infected people, taking the nation's tally to 408 cases without any deaths reported.
Of those, 311 people have recovered and been discharged from hospital.
The Ministry of Education and Training ordered educational establishments to re-organize their medical bodies before August 15.
School management should heighten and publicize personal hygiene, especially in dormitories and kitchens, as well as detailing flu prevention measures among learners and teaching staff, the Education Ministry added.
Meantime, the Education and Training Bureau in the southern province of Dong Nai decided to temporarily close the Suoi Cat pre-school, as a pupil is suspected of having the flu and is currently isolated Xuan Loc District's General Hospital.
Children that have been in contact with the patient will be kept under observation.

Related articles:
12 more students, teachers found with swine flu at HCMC school