More than 2.3 million students in the country's two biggest cities Monday started the new school year with the first lesson on H1N1 flu prevention.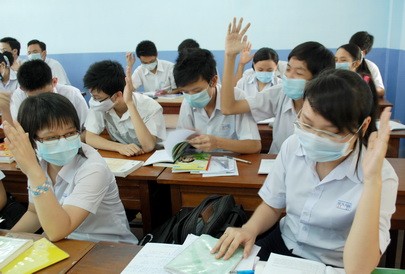 Students wear masks during class at Bui Thi Xuan High School in District 1, HCM City on the firts day of the school year, August 17, 2009. (Photo: Tuoi Tre Newspaper)
The busy atmosphere has never seen like this before, with officials disinfecting all schools and handing out medical masks.
Many schools measured students' temperatures at school gates and said that they would continue to carry out such actions everyday and require students to wear masks during class.
This does not include Le Hong Phong High School in Ho Chi Minh City, which has been closed as a group of students tested positive for swine flu.
Meanwhile, parents of preschool children are worried about the flu, leading to many not sending children to kindergartens.
The country recently reported 56 cases of H1N1 flu in one day, with the largest number being students from schools in Ho Chi Minh City.
In related news, the Ministry of Health said that out of a group of 34 tourists infected with swine flu, 21 have now been discharged and have left for home to Ho Chi Minh City.
A total of 160 tourists from the same party as those infected remain in quarantine at a temporary hospital in a hotel in Hanoi, though not have yet tested positive for the virus, the ministry added.
The ministry also said that a man, who tested positive for H1N1, has disappeared.
His test result was announced on August 15 but the Department of Heath in Da Nang city, where he is resident, has not yet found him.