On behalf of health authority, head of the Planning and Skill Ward of the Department of Health in the highlands province of Dak Lak Nguyen Huu Huyen publicly apologized 16 year old schoolgirl Le Thi Ha Vi and her family for doctors' irresponsibility and incapability leading to Vi's leg amputated in Cho Ray Hospital.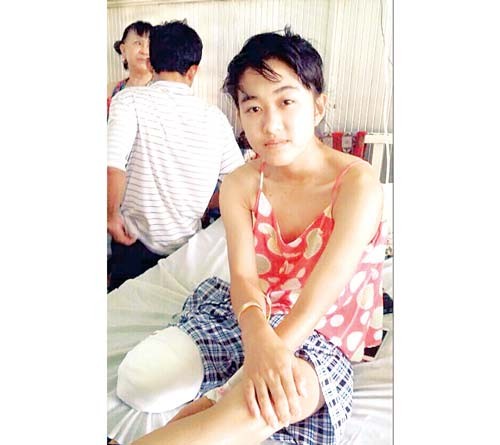 Schoolgirl Vi at Cho Ray Hospital (Photo: SGGP)
The apology was made publicly at a press brief held on March 17 by the Department.

In the press brief, the Department said that it had established an inspection over the admission procedure as well as issued decision to suspend doctors and nurses involved in the case.
Leaders of the Department and the hospital arrived in Cho Ray Hospital to visit schoolgirl Vi and apologized her and the family once again.
In addition, the Department liaised with Cho Ray Hospital and Trauma and Orthopedics Hospital over physiotherapy and a prosthesis leg for Vi.

Director of the Department Doan Huu Long said that Health Minister Nguyen Thi Kim Tien ordered the hospital to pay Vi's treatment cost and support the cost of a prosthesis leg. The health sector will do its best to help her.