A fresh outbreak of swine flu has occurred among students at a secondary school in Dong Xa commune in the northern province of Bac Kan, the Ministry of Health reported January. 27.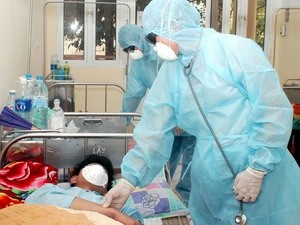 Doctors examine patients contracted with A/H1N1 in Bac Kan Hospital. (Photo: VNA)
Vu Sinh Nam, deputy head of the ministry's Preventive Health Department, said at a meeting of the National Steering Committee for Combating Influenza in Humans in Hanoi that 144 pupils have contracted the A/H1N1 virus and have typical symptoms like fever, cough, sore throat, and muscle pain.
An average of 10-14 have fallen ill daily and all have been treated at home under the supervision of local health workers.
Half have already recovered and no fatalities have been reported so far.
Earlier, 10 students at Pha Le Primary School in Hai Phong are reported to have contracted A/H1N1. But the outbreak is under control and shows no signs of spreading to the wider community, the northern city's health department said.
As of January 27 Vietnam has reported 11,166 confirmed A/H1N1 cases, including 56 deaths.
Meanwhile, on the same day Tran Minh Ky, deputy chairman of the Ha Tinh Province People's Committee, announced outbreaks of bird flu in Cam Xuyen District and Ha Tinh town.
Over 10,000 poultry have died in Cam Binh, Cam Thach, and Cam Nam Communes in Cam Xuyen and Thach Quy ward in Ha Tinh town in the last 10 days.