Currently, the Mekong Delta provinces of Hau Giang, Dong Thap have implemented the second phase of bird flu vaccination of 2006 with 2.2 million dozes, said an official from the Animal Health Department under the Ministry of Agriculture and Rural Development.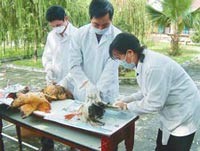 Vets vaccinate chicks
The central budget sponsors H5N1 and H5N2 inoculation for ducks and chicks respectively.
The plan of H5N1 vaccination for chicks has just been adjusted by the ministry and carried out in towns and provinces with small numbers of chickens.
Based on the local plans of bird flu injection 2006, the ministry instructed the suppliers to import enough vaccine for the whole year 2006. The ministry thus asked district people's committees to guide local agencies to conduct vaccination as the set plan to avoid waste.
To date, Ca Mau province's Steering Board of Bird Flu Prevention has culled nearly 400 poultry and eggs and made reports of 20 illegal cases of trading and transportation of poultry.
In addition, Ca Mau has made all its efforts to protect a flock of birds raised in the Cultural Bird Park with around 10,000 types of birds including cormorants, storks and herons.
The park's management board has sprayed PKA pesticide around the environment and mixed the food with Virkon against the epidemic.
Over 400,000 newly-hatched ducks are not under control in the southern province of Bac Lieu.
Bird flu has occurred in Prey-Veng province of Cambodia, 20 km far from Hong Ngu's border of the Mekong Delta province of Dong Thap, the risk of a new outbreak in this province is thus very high.
There are about 3 million unvaccinated poultry, mainly ducks, in Dong Thap province.