Death by active and passive smoke
Some lung cancer patients told doctors that they had never smoked; yet, they had the disease which usually happened to smokers. On having collected data, researchers found out the patients all were working in restaurants. They didn't smoke but they were victims of passive smoking.
Dr. Truong Trong Hoang from the Ho Chi Minh City Center for Health Communication and Education (CHCE) said that tobacco is a silent killer, who causes 25 diseases, of which lung cancer, chronic bronchitis and bronchiectasis are the most common.
It is noteworthy that only one cigarette will make harmful effects to the body and according to scientists, it shortens 5, 5 minutes of the smokers' life span. Out of 4,000 toxics exist in smoke, the most dangerous being nicotine, carbon oxide, tar and other poisons, which can lead to sterilization.
Smoking harms all body organs. Not only are smokers at the constant risk of serious diseases but people who happen to be around them, the passive smokers are also. The rate of children with breathing problems is higher; asthma child patients have more attacks and under-one-year children are at higher risk of sudden death in the families of smokers.
Smoke not only influences one's health but also the society, environment and economy.
Over 56% of Vietnamese men smoke; it has been predicted that about 8 million people will die young because of smoking, not including passive smokers. An investigation has shown there are 12 million smokers nationwide.
Smokers have paid over 8.2 thousands of billions of VND a year, which is 1.5 times higher than spending on education and 5 times that of health care.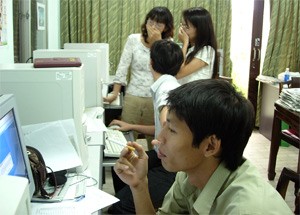 Second-hand smokers are afraid of offending their colleagues  (Photo:U.Phuong)
Offense or death
Dr. Le Truong Giang, Deputy Chief of the Board of the program "Prevention of the smoking effects" in Ho Chi Minh City said that smokers are all aware of the harmful effects of smoking. They can stop smoking with good conditions; however, the main problem is whether they want and have determination to quit smoking.
Dr. Nguyen Thanh Liem, who is charged with the program "Prevention of the effects of smoking", said although health officials clearly understand the harmful effects of smoking, they don't tell smoker colleagues not to smoke out of politeness.
Currently, the ban on public smoking is not effective because there have been no effective sanctions in place. Therefore, non-smokers should raise their voice to protect their health. They at first advise and then place pressure on smokers until they buckle and give up.
With the help of WHO's "Tobacco Control Program", CHCE has launched the non-smoking program at some hotels, restaurants, sport centers and shopping malls in Ho Chi Minh City.
The program has produced some good results. Customers, especially groups of tourists with women and children, feel comfortable to relax and eat in non-smoking environment. Some people said that they get accustomed to such environment and  they request to be seated in non-smoking sections wherever they go.