The death toll from A/H1N1 influenza in Vietnam has risen to 31 after seven more fatalities were confirmed from October 16-22, local health officials said.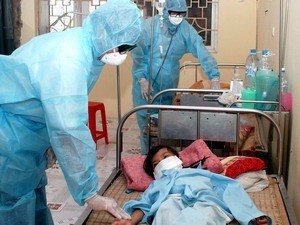 A doctor  is examing a child who has contracted the swine flu ( Photo: VNA)
On October 23, four more deaths were reported including two pregnant women, a child, and a woman in her forties, said Dr. Nguyen Huy Nga, chief of the health ministry's Preventive Medicine and Environment Department.
The General Hospital in the central province of Phu Yen confirmed the death of a 25-year-old pregnant woman from Phu Hoa District. The 16-week pregnant woman was hospitalized and tested positive for the A/H1N1 flu.
Doctors said she had a preexisting heart condition and died on October 20.
The same day, a 48-year-old woman from the Highlands province of Gia Lai died after contracting swine flu. Health officials said she suffered from a preexisting blood disease.
Another pregnant woman, a 24-year-old from the Highlands province of Gia Lai, was taken to Cao Su Hospital on October 10 with a high fever. She was later transferred to the province's General Hospital with a diagnosis of severe pneumonia caused by the A/H1N1 virus. The seven-month pregnant woman died on October 21.
A two-year-old girl with genetic heart disease from the Highlands province of Lam Dong was also confirmed to have died after contracting the A/H1N1 virus. She died at the Children Hospital 1 on October 22.
According to the Ministry of Health, two more children and an adult suffering from a chronic disease also died between October 16-22.