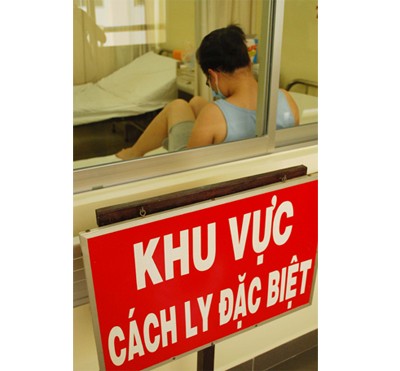 A H1N1 patient in the quarantine area.
The Ministry of Health confirmed seven more cases of H1N1 flu in Vietnam on July 17, raising the country's total number to 345.
Among the patients, 299 have returned home after being discharged. Forty-six remain in hospital and are in stable conditions. No deaths have been reported.
On the same day, the Pasteur Institute in Ho Chi Minh City announced that 20 people at Dong Nai Province's Xuan Hiep Commune had tested positive for the H1N1 virus.
These people had earlier met an overseas Vietnamese family, whose children were found to have been infected with swine flu on July 10.
They have been quarantined for treatment.
Globally, 128,273 cases in 137 countries have been recorded with H1N1 by July 17, of which 679 patients have died.