The number of acute diarrhea patients has declined and those in charge of controlling the disease have done their duty well, said Dr. Nguyen Huy Nga, head of the Preventive Health Department of the Ministry of Health on May 11.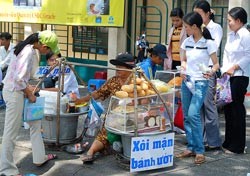 Sideroad eateries may cause acute diarrhea
In the last several weeks, no fresh cases of the disease have occurred in the northern provinces of Thai Nguyen, Vinh Phuc, and Hoa Binh, in the central province of Quang Binh, or in Ho Chi Minh City.
Cholera is transmitted mainly through lakes, rivers and streams. Some provinces and cities have been successful in stopping this method of transmission, Dr. Nga said.
Tests carried out on residents, vegetables, food preparation equipment at restaurants, and eateries in Ha Noi, Ha Tay and Hai Phong show the cholera virus is still present.