According to the Ministry of Health, the country currently lacks around 40,000 nursing staff while just 6 percent of all nurses hold a university degree. This severe shortage puts even more pressure on Vietnam's overloaded healthcare system.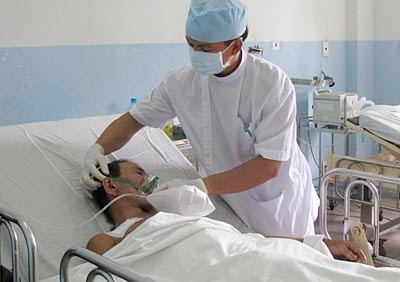 A nurse treats a patient at Pham Ngoc Thach Hospital in HCMC (Photo: SGGP)
Most who finish nursing programs choose to enter other fields soon after graduation due to the high stress and demands of the job in addition to low pay and poor social recognition. 
It is commonplace in hospitals for stressed patients and their families to take out their frustrations on nursing staff, often accusing them of giving priority to others or not taking responsibility for problems that are beyond their control. The nurses say they have little option but to accept such tirades.
Having insults hurled their way is also common for emergency room nurses in particular, said Vu Thi Thanh Huong, a senior nurse in Ho Chi Minh City. Patients' relatives often don't understand the job of nurses and are anxious about the condition of their loved ones, she added.
Ms. Huong said that many young nurses simply can't bear the demanding work loads and outbursts from patients' families. They are often brought to tears and end up resigning in spite of preferential treatment given by some hospitals to nursing staff.
Furthermore, Vietnamese society does not fully appreciate the role of nurses. In 2007, Thai Thi Kim Nga, a senior nurse at HCMC's Cho Ray Hospital, was the first to be awarded for excellence on the job after 20 years of work.
Ms. Nga said the job was extremely difficult and the low income pushed many nurses to leave for other fields of employment. Nurses working at State hospitals, meanwhile, often choose to leave and work for private clinics where the work load is less and the pay is better.
HCMC's Cho Ray Hospital, one of the biggest hospitals in the country, sees large numbers of emergency room nurses leave each year due to job stress. The hospital was shocked in 2008, however, when 30 experienced emergency room nurses resigned and asked to transfer to other departments.
The situation is even worse at HCMC's Pham Ngoc Thach Hospital for Tuberculosis and Lung Diseases, which struggles to keep nurses despite offering bonuses and shorter working days of around seven hours.
A nurse with 10 years' experience at the HCMC-based Children Hospital II said that in order to keep nursing staff, better preferential policies, wages, and working conditions are needed.