Around 4 percent of the nation's population (or 3.6 million Vietnamese ) are suffering from depression,  the Ministry of Health (MoH) said at a meeting in response to the World Health Day ( April 7) in Hanoi.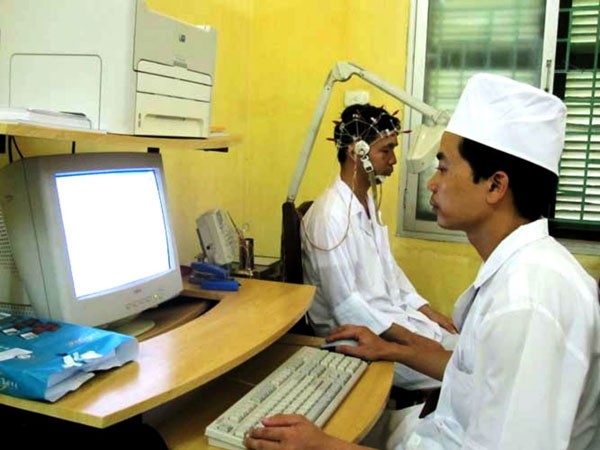 A medical worker is treating a patient with mental disease (photo: SGGP)
Worse, the number of people with depression is on the upward trend.

Speaking at the meeting, Deputy Health Minister Nguyen Thanh Long said depression is a serious health problem in the country and worldwide. The disease - a mental disorder - commonly occurs in people with stress, with psychological trauma in daily life with family members or social connections or after they have suffered from other illnesses. The disease seriously affects their physical health and ability to study and work easily leading to uncontrollable acts including suicide.
Though the Ministry has taken heed to mental health services for several years, actions, activities and programs to deal with the issue in the country were only implemented in a few localities on a small scale, he said.

He stressed that the Ministry is placing depression in top priority in the program to take care of mental health. The health sector increased information of the disease including education and communication on the illness so that people understand and are able to recognize its symptoms and get timely treatment aiming to help people with depression overcome the illness and integrate into the society. There should not be discrimination on those with mental illness.

The Ministry encourages people to take exercise and avoid taking alcohol and additive substances. People experiencing depression should talk to other people to prevent and treat depression and go to medical clinics to get consultation from experts.

As per to the World Health Organization, all people can have depression yet more female tend to get the disease. The groups of students, young people, women before and after giving birth are highly likely get the disease than other groups. Depression is one of ten causes of burden among people of all age including those under 15.

According to WHO's study, depression is one of leading causes of disabilities among women. Moreover, study points out that the risk of suicide in people with depression is 25 times higher than in people without mental disorders. It is estimated that 5,000 Vietnamese and 800,000 people worldwide commit suicide because of depression, the study said.