Tapioca pearls, a substance used to make pearl milk tea, a popular drink among young people in Vietnam, was discovered to contain sodium sulfate, widely used in the field of industrial bleaching, said health inspectors on September 1.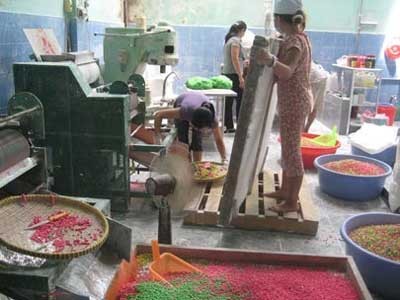 Long Phu Co. produces tapioca pearls on the floor ( Photo: Tuoi tre)
Following China's discovery that some tapioca tea, also known as bubble milk tea, contained polymer plastic, health inspectors from Ho Chi Minh City'd Department of Health took samples for tests from some tea shops along Nguyen Van Cu Streets, and from manufacturers Hong Tuong in District Tan Binh, Duyen An shop in Binh Tay market.
Health officials did not however find polymer plastic but most tea did fail to meet food hygiene and safety. Inspectors ordered shops to stop selling tea and destroy unhygienic tapioca pearls.
Previously, health inspectors had paid a visit to Long Phuc Co. in Trinh Dinh Trong Street, Tan Phu Distrivt. The facility was found to have poor hygiene conditions.
The manager, Luu Toan Lap, said his factory used a chemical to bleach tapioca pearls and preserve them for a long time. A ton of tapioca pearls was sold to shops, said Mr. Lap.

Related articles:
Health warnings over tapioca tea

Tea additive contains acids, say Hanoi health officials