Some private hospitals in Ho Chi Minh City are doing well and generating huge profits while others are on the verge of bankruptcy because of lack of patients, poorly qualified medical staff and bad management.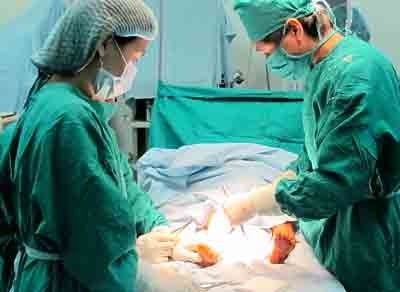 Doctors of Phuong Dong private hospital are conducting a surgery (Photo: SGGP)
The degrading conditions of private hospitals can be attributed to overloading in state-run hospitals. The Pho Quang General Hospital on 2B Pho Quang Street in District Tan Binh in HCMC has been operational since 2008, with expectations that it would help reduce the number of patients in the downtown hospitals.
It fared as expected when it was ranked as the best hospital in treating health insurance card holders in 2009.
However, while conducting an investigation in 2010, inspectors from the HCMC Department of Health discovered the hospital had followed malpractices in signing of contracts with the insurance company. Subsequently, the hospital managers were changed after the head of the hospital admitted that the hospital was under huge debts because only a few patients had been treated there.
Other private hospitals similar to the General Hospital in districts Tan Phu, Tan Binh, Go Vap too followed malpractices. Even though all these hospitals invested in construction resembling 3-4 star hotels, very few Vietnamese people could afford their fees.
HCMC has 32 private hospitals.  The biggest hospital is Trieu An with 500 beds, Hoan My, Tam Duc and Viet Phap (Viet-France) with 200 beds, while others have 150 beds.
Private hospitals have been mushrooming to satisfy the increasing demand of a part of the local population who demand luxurious comfort and modern medical facilities.
However, now the hospitals face management problems as it was the doctors who set up the hospitals and they later also became the managers while not being qualified to manage, said Doctor Nguyen Huu Tung, General Secretary of the HCMC Medical Practitioners Society.
Some private hospitals are now up for sale. Dr. Tung pointed out two reasons for the sale of hospitals. First, small private hospitals will not be able to meet the standards required once the Law on Treatment takes effect. Second, ineffective larger hospitals can be revamped and upgraded to earn higher profits.
Much more support and preferential policies are needed to help private hospitals from closure, which will also help reducing crowding in public hospitals and raise treatment standards.