South African President Jacob Zuma on Tuesday unveiled a dramatic expansion in treatment for pregnant women and babies with HIV, sealing a turnaround in the AIDS fight in the world's worst-affected country.
Zuma said that all babies with HIV will receive treatment at public facilities from next April, while women will receive care earlier in their pregnancies in a bid to prevent transmission to newborns.
He also announced that he was preparing to take a HIV test himself, and urged the public to do the same.
His speech cemented a sharp break with past policies, when the previous government of Thabo Mbeki questioned the link between HIV and AIDS and promoted garlic and beetroot instead of medication.
"This decision will contribute significantly towards the reduction of infant mortality over time," Zuma said in a nationally televised speech to mark World AIDS Day.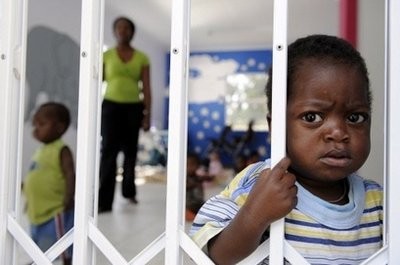 A young boy is pictured at a shelter for HIV-infected mothers and their children in Johannesburg on November 25.
An estimated 5.7 million of South Africa's 48 million people have HIV, including 280,000 children, according to the UN AIDS agency.
Currently anti-retroviral drugs are provided to babies based on how weak their immune system has become.
People with both HIV and tuberculosis will also qualify for expanded treatment, while Zuma said every health facility in the country would be equipped to provide care, which is currently limited to a few centres with special accreditation.
"What does this all mean? It means that we will be treating significantly larger numbers of HIV positive patients. It means that people will live longer and more fulfilling lives," Zuma said.
"It does not mean that people should not use condoms consistently and correctly during every sexual encounter," he added.
Speaking with a candor rarely seen among African leaders, Zuma also said that he would receive an HIV test.
"I am making arrangements for my own test. I have taken HIV tests before, and I know my status. I will do another test soon," he said. "I urge you to start planning for your own tests."
The tone marks a dramatic change for Zuma himself, who in 2006 said that he had showered to wash away the risk of AIDS after having sex with an HIV-positive woman. At the time, he was head of the National AIDS Council.
The new drive aims to meet the government's goal of halving the number of new infections by 2011 while providing treatment to 80 percent of the people who need it.
Health ministry spokesman Fidel Radebe said the government did not yet have an estimate of how many people would benefit from the new measures, or for how much the expanded treatment would cost.
South Africa runs the world's largest anti-retroviral programme, but under the existing scheme nearly one million people are still believed to need treatment.
The United States announced that it would provide South Africa with an additional 120 million dollars to buy more drugs over the next two years, in response to a request by Zuma.
Under Mbeki and his health minister Manto Tshabalala-Msimang, South Africa became an international pariah for defying scientific evidence and stalling the roll-out of anti-retroviral drugs.
A recent Harvard study found that 365,000 people died prematurely because of the delay.
Since Zuma took office in May, he has made repeated public statements about the need to fight the disease -- in stark contrast to Mbeki's silence.
The disease has already taken a staggering toll on South Africa.
An estimated 1.5 million children have been orphaned by AIDS. A new study released last month found that by 2015, that number could rise to 5.7 million -- or one-third of the nation's children.