Mr. Ha Huu Tuong's decision to sue several soy sauce producers for VND30 billion has made him something of a celebrity, but whether his suit gets to court remains to be seen as the issue is more complicated than it seems.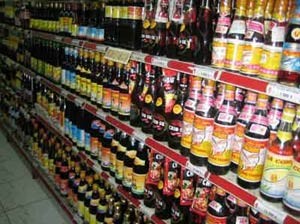 Soy sauce products in local super markets.

Mr. Bui Hoang Danh, Tribunal President of the Ho Chi Minh City People's Court, says Mr. Tuong's petition is not eligible for three reasons: There is no concrete list of named defendants, Mr. Tuong has failed to provide any proof that he is acting on behalf of consumers generally, and he has not lodged the 5% deposit.
Only if Mr. Tuong can meet the three conditions will his lawsuit be considered.
Lawyer Phan Trung Hoai has given his opinion on the case and says consumers definitely have the right to sue a producer whose products cause harm.
However, he and fellow lawyer Bui Quang Nghiem, vice chairman of the HCMC Lawyers' Association, stress that, in such a case, the consumer has to prove that he has continuously used the product in question for 5-10 years with negative effects on their health.
Moreover, there is also a need of scientific proof from a relevant organization to show that his cancer was caused by the long-term use of soy sauce with a high level of 3-MPCD.
Such requirements have caused major headaches for consumers since there is no official organization in Viet Nam to carry out such tests.
The problems emerging from this case have exposed many weaknesses in the country's legal system.
Because of this, Ms. Vo Thi Kim Hong, President of the HCMC People's Procuracy, has urged the Government and relevant officials to change the laws relating to food safety and hygiene as a matter of urgency.