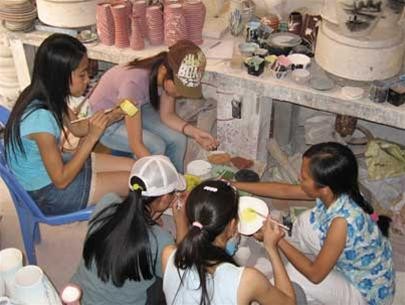 SAS's members make products to raise fund for their organization
A group of Ha Noi students set up a club, SAS (Sharing As Smile), to help children born with cleft lips. They called for community sponsored contributions and assistance for more fundraising ventures.
Thu Huyen, SAS's chairwoman, recalled a time when she worked as an interpreter for the International Operation Smile Organization.
The children she worked with were unable to express their happiness with a smile as they received presents from the organization's volunteers.
Huyen was moved to tears by the sight. The idea of establishing an organization to provide assistance for these unlucky children flashed across her mind.
She was soon in the development process and quickly found support from teachers and friends.
Nguyen Gia Thu, a teacher and head of the Business Administration Department of the Ha Noi University, was the first person to vocalize his approval of the project.
The ten-member SAS Club has branches of finance, fund-raising, awareness raising and a special department for team building activities.
SAS members undertook the translation of books and made souvenirs to raise nearly VND3 million for the first child's operation from the northern province of Thai Binh.
The group was ubiquitously moved to tears upon seeing the success of the surgery in a delighted smile.
The recognition has quickly spread. Students from numerous universities in Ha Noi have offered their assistance to SAS.
Aside from making souvenirs, SAS members also travel to Bat Trang Ceramics Village to purchase crude products and then decorate them with funny designs and patterns.
Many products, including ceramic pots, flower vases and dishes, are adorned with the word "smile." These ceramic products sold like hotcakes amongst the youth and quickly sold out.
Another way they try to boost support and funding is in providing high quality, free films at school yards and using the time to gather donations from audience members.
After six-month in operation, SAS's fundraising has reached nearly VND30 million.
Three children are presently undergoing surgery and dozens eagerly wait in line. SAS plans to sell ten new products labelled "SAS items" on
sharingsmiles@gmail.com
.
SAS is recognized as a member of the Operation Smile Organization.
In addition to helping cleft- lipped children, SAS is also involved in a few other social programs which open free classes for street children, provide care for the children of SOS and Hoa Binh – Thanh Xuan Villages, as well as support the children of the Nguyen Dinh Chieu School for the Blind.