Ho Chi Minh City Health Department Director Nguyen The Dung said on May 19 that through growing a sample of suppurative abscess on a victim treated in the Pediatrics Hospital I, the investigating team has discovered that staphylococcus aureus is the cause of septicemia.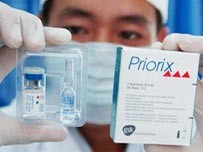 Vaccine Priorix
Investigations have focused on why staphylococcus aureus is present in the victims.
Doctors and nurses from District 5 Health Center were sent to the Ho Chi Minh Tropical Hospital to have their skin, nail and hair samples taken together with other equipment such as cotton wool, gloves and alcohol collected for cultivation to find staphylococcus aureus.
At the same time, WHO experts and the professional team of Health Ministry sampled vaccine for test and experiments on mice.
Regarding Hoang Duc Pharmaceutical and Medical Supplies Co. in District 11, distributing vaccine Priorix to District 5 Health Center, Health Department discovered some shady activities and requested its inspectors and other relevant agencies to have an urgent check on the company's activities and take samples of vaccine Priorix for testing.