A health seminar on stomach conditions opened in Ho Chi Minh City on June 24, with doctors extolling the virtues of healthy eating and living, and arguing that unhealthy emotional and mental habits were to blame for many of our gastrointestinal ailments.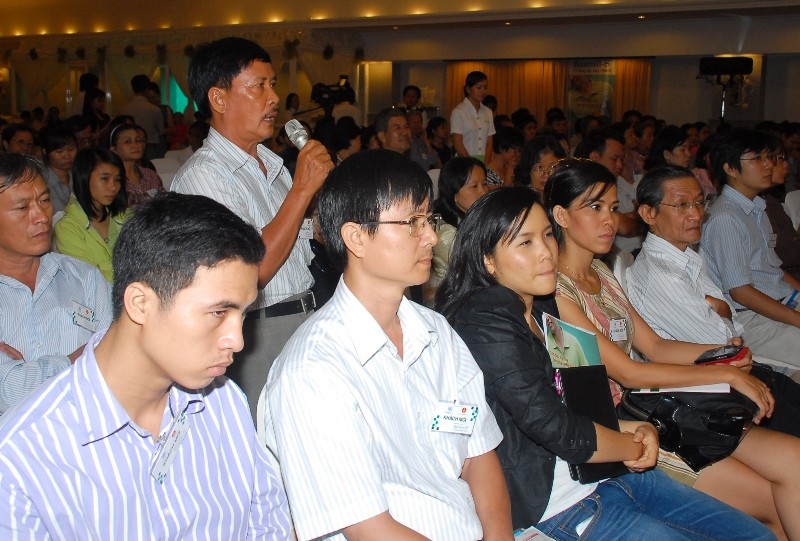 Many people participate in the seminar about unhealthy emotional and mental habits are blame for gastro-intestinal ailments on June 24
The seminar marked the half-way milestone of a comprehensive publicity campaign launched by United Pharma Vietnam's Kremil-S, a brand of peptic ulcer medicine, spread awareness about stomach health among the public and pharmacists in order to help them recognize early symptoms of stomach diseases and know what should be done to prevent and treat the illnesses.
'Stomach Conditions Associated with Today's Lifestyles' was jointly held by United Pharma Vietnam (UPI) and Ho Chi Minh City University Medical Center (UMC) at Kim Do Hotel in District 1.
Doctors from UMC have been providing expert consultancy to the project, which has launched severa mutli-media programs, including the 'Your Doctor' radio talk show (aired on Binh Duong Radio every Tuesday and Saturday at 2pm) and a series of syndicated 'Health Guru' articles in newspapers.
Dr. Bui Huu Hoang, Ph.D, Head of UMC's Department of Gastroenterology and Hepatology, spoke at the seminar to sheds some light on key aspects of stomach problems known to be linked to modern unhealthy lifestyles. He also analyzed the potential risks and complications involved and discussed preventive measures and treatments.
Dr. Hoang said some 50% of over-50-year-old ulcer patients in developed countries are infected with Helicobater pylori bacteria (HP). The global contraction rate rises by 10% a year. HP is the cause of up to 80% of confirmed ulcer cases in developed world while the figure among Vietnamese adults has reached over 70%, said Dr. Hoang.
"One of the key targeted groups of the project is pharmacist audience as these people work closely with patients and are supposed to give out a great deal of advice on OTC medication. So once they are well outfitted with important knowledge, they will be able to help their customers reduce contraction risks and stay fit in peptic terms" said Ms. Thieu Thi Vy Vy, UPI's Marketing Head of Illness Channel.
The doctor listed a number of factors that contribut to stomach problems: stress, eating disorders, smoking, alcoholic consumption.
But Hoang also said stomach problems had to do with our mental and emotional health as well. He said the best way to keep stomach issues at bay was to lead an optimistic life, full of small but healthy everyday practices. He also said concerned people should stay away from unclean eateries.
One of the main causes of peptic ulcers is hyperadicity, in which the stomach contains an abnormally high amount of acids, resulting in mucosal damage and ulcerations, said Dr. Hoang. Unhealthy lifestyles and conditions such as obesity, smoking, diets containing too much spicy, oily, or sour food, the abuse of alcoholic drinks and coffee, are often responsible for this, according to the doctor..
To learn more about stomach afflictions, send an emais to chuyengiadaday@yahoo.com or call the toll-free hotline - 1900 57 15 18 (extension 5). Experts on the line can give advice as to how to prevent and treat many stomach ailments.