Some child patients had high fever and swelling after they are injected with Priorix vaccine to prevent measles, mumps and rubella at a medical clinic in District 5.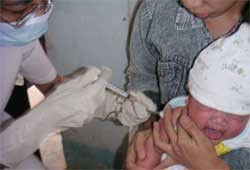 Children are vaccinated at a hospital
After the news that some children from 13 to 16 months old taken to the Pediatrics Hospital I (PH I) due to their serious reaction to Priorix, the Health Ministry has, on May 11, sent an urgent correspondent to Directors of Health Department in cities and provinces to request for close inspection and supervision of Priorix vaccine injection.
The correspondent includes four requirements. Firstly, the health units are to immediately suspend the injection of Priorix vaccine produced by Glaxo Smith Kline Biologicals s.a lot, number A69CA409A with expiry date of July, 2007 pending further notice from the Ministry.

Secondly, to step up inspection of the immunizations, the source, types and quality of vaccines as well as the freezing chain, expiry date and injection techniques.

Thirdly, they direct the implementation of safety measures in injection of the vaccines.
Fourthly, they must prepare facilities for first aids and minimizing of anaphylactic shocks to save lives.

Dr. Trinh Quan Huan, Health Deputy Minister, said the Ministry had asked the National Institute of Drug Quality Control officials to come to Ho Chi Minh City. They would coordinate with related organizations to investigate this issue, especially vaccine quality.
Nguyen Van Binh, Vice Head of the Preventive Health Department of Health Ministry said that the producers always had warnings of side affects such as fever or headache during and after the injection of vaccine in regulation.
Related Article:
GlaxoSmithKline Cooperates with Viet Nam to Rescue Vaccine -Shock Children: Representative