The Open Heart Surgery Department in Cho Ray hospital succeeded in an emergency surgery for the patient T.N.T, born in 1954 residing in Long Thanh, Dong Nai.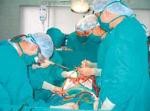 A open heart surgery in Cho Ray hospital
The scanner result shows that he has cardiac aneurysm and will die if a timely surgery is not performed. This is the first case to start the implementation of emergency open heart surgeries related to aorta and coronary arteries in the hospital.