Surgeons of two hospitals namely Tu Du Maternity hospital and the Children's hospital No. 2 worked together to save a newborn baby with severe heart problems on April 22.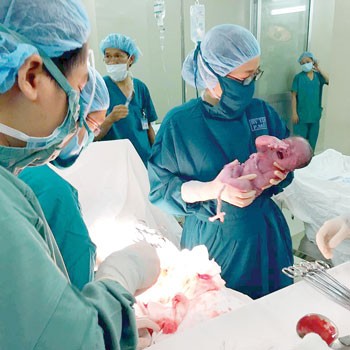 The newborn baby is delivered by C-section and undergo a heart operation later (Photo: SGGP)
A team of surgeons from the Children Hospital No.2 in Ho Chi Minh City rushed to Tu Du Maternity Hospital to soon carry out an operation on a newborn baby in surgeon room of Tu Du Hospital where the mother gave birth by c-section.
Before, when the pregnancy is 25 weeks, doctors in the southern province of Dong Nai where the mother lives detected the neonate suffers Atrioventricular block at the third degree; and they discovered that the baby's heart rate is 30-40 beats per minute instead of 180 beats per minute as normal.
The baby's condition becomes worse at 28 weeks so doctors predicted he could die at the surgeon room or on the way to other hospitals for a surgery.
Therefore, on April 22, surgeons from the Children Hospital No.2 quickly performed an operation at Tu Du hospital where the neonate was delivered through c-section and they succeeded to raise his heart rate to 136 beats a minute.
Dr. Truong Quang Dinh, deputy director of the children's hospital No. 2 said that it is really a good result as the baby was survived.
Currently, the neonate are taken care at the Children Hospital No.2's Intensive Room.