Surgeons at the National Hospital of Pediatrics in Hanoi separated five-day-old conjoined twins on Sep. 21.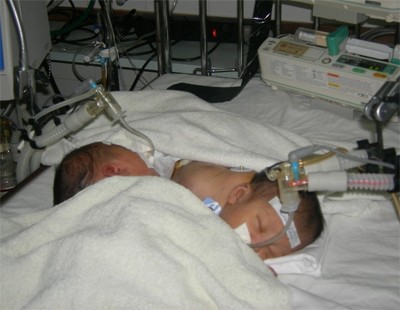 This photo shows the conjoined twins before seperation surgery (Photo: Dan Tri)
Prof. Dr. Nguyen Thanh Liem, director of the hospital, said that they had to conduct the separation operation two days ahead of schedule due to one of the girls' weakness.
The girls are now in better condition than before surgery, said Dr Liem, but both are put under special care as they have a congenital heart malformation.
The twins are expected to receive heart treatment two weeks following the separation, he added.
The twins, Nguyen Thi Ngoc Mai and Nguyen Thi Minh Hong, weighing a total 4.7kg, were born on Sept. 16 in northern Bac Ninh province conjoined at the chest. Both shared a single sternum and pericardium (heart sac).
The twins were taken to the hospital three hours after birth. They were suffering from severe respiratory failure and was being assisted by breathing machine.