Following a series incidents that left more than a score of people blind, the Ministry of Health has banned the use of trypan blue, a surgical aid used to stain the retinal membrane during cataract surgeries.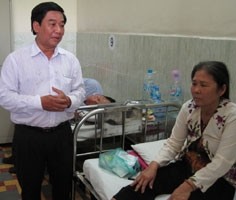 A representative of the Ho Chi Minh City Department of Health (L) visits  a patient who turn blind after eye surgery. ( Photo: Lao Dong)
The ministry decided to ban the drub following reports that twenty-two patients went blind earlier this year after undergoing cataract surgeries at the Ho Chi Minh City Eye Hospital.
Tests of equipment samples and drugs showed that the blindings were caused by infections that resulted from the Pseudomonas aeruginosa bacteria (pink-red rods) present in trypan blue made by the Indian Khosla Pharmaceutical Company.
The drug is imported and provided by Viet My Medical Equipment at 572/4 Le Quang Dinh Street , Go Vap District.
The ministry also asked the Indian Khosla Pharmaceutical Company to withdraw all products nationwide as well as cooperate with relevant agencies to verify the cause of the problem and assume responsibility.
In addition, Khosla must report on the quality and quantities of the drug distributed in Vietnam.
The hospital's director Tran Thi Phuong Thu said three more patients had been discharged from the hospital following intensive treatment after the incidents. However, one or two of those patients are expected to go blind as strong antibiotics have not made their situation any better.
Other patients in the southern provinces of Dong Nai and An Giang have also recently gone blind due to infections from the pseudomonas aeruginosa bacteria caught at eye hospitals.

Related article:
Patients turn blind after eye surgery