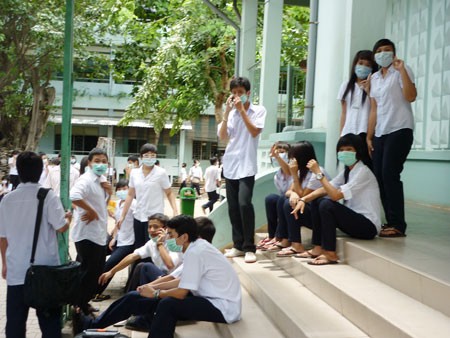 Students of Nguyen Khuyen High School in District 9, which was quarantined on July 22.
Prime Minister Nguyen Tan Dung, ordered the Ministry of Health and relevant departments July 25 to implement urgent measures to prevent the spread of swine flu in the community, as 35 new cases of H1N1 were announced the same day, increasing the country's total number to 567.
The Prime Minister ordered the media to better publicize measures the public can take to prevent swine flu spreading through the community.
Of those found to have sine flu, 371 have been discharged from hospital and 196 remain in quarantine for treatment. No deaths have been reported.
Some provinces like Khanh Hoa, Ba Ria - Vung Tau, Lam Dong, Binh Duong, Dong Thap, Dong Nai, Binh Phuoc, Tay Ninh, and Long An have reported H1N1 flu cases related to the quarantined Ngo Thoi Nhiem and Nguyen Khuyen high schools.
The infections have come from students returning home from the HCM City-based boarding schools for the summer vacation.
The ministry recommended students' parents to closely monitor their children's health and inform local health officials when they find flu-like symptoms in order to deal with the situation.
Tong Quoc Tan, chairman of Binh Phuoc Province's Thuan Phu Commune municipal committee, said on July 25 that he would close Thuan Phu Market for a week, as two merchants in the market had been found with swine flu.