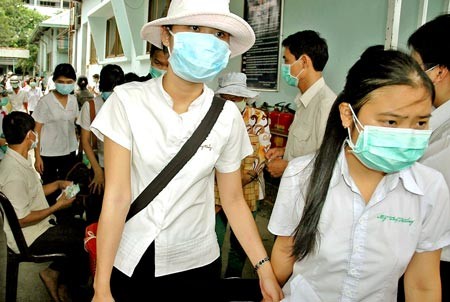 Students of Nguyen Khuyen High School wear face mask to prevent them from contacting swine flu(Photo: SGGP)
One more high school in Ho Chi Minh City has been quarantined, as a schoolgirl was found to be infected with swine flu on July 22.
Nguyen Khuyen High School reported the case to the authorities, saying a student had flu-like symptoms after going out with a student from Ngo Thoi Nhiem High School, which was quarantined on July 19.
The city's Health Department has instructed medics to spray disinfectant in the school and send 18 doctors and nurses to treat infected students.
According to Le Trong Tin, principal of the school, 53 other students were also quarantined for having symptoms of swine flu, one of which tested positive for influenza A. The rest were sent home on July 23.
Huynh Cong Minh, the city's Department of Education and Training director, said he ordered the school to collaborate with parents to monitor students' health and inform the local heath office when they present flu-like symptoms.
At Ngo Thoi Nhiem High School, the number of H1N1 cases has reached more than 70 on July 23.
Both schools are boarding-schools.