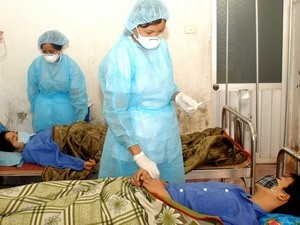 Doctors are examining people infected with flu at a general hospital in the northern province of Vinh Phuc (Photo: VNA)
Swine flu has claimed one more life in Vietnam, a health official announced October 11.
The victim was a 14-year-old boy from Dak Soong commune in Krong Chro District, the Central Highlands province of Gia Lai, who had a chronic kidney problem.
The Ministry of Health (MoH) October 11 also confirmed 65 more cases of type A/H1N1 influenza, bringing the total number in the country to 10,021 including 23 deaths.
With the flu becoming widespread and infecting many people, causing hospitals to run out of influenza A (H1N1) virus biological reagents, the MoH has instructed that people should be isolated at local medical facilities.
Only pregnant women, children under five, people aged 65 and above, and people with chronic diseases or obesity should be treated at central hospitals, it said.