School closures due to suspected or confirmed cases of swine flu (H1N1) are necessary, the deputy health minister, Trinh Quan Huan, recently said. However, it does not mean all schools should close.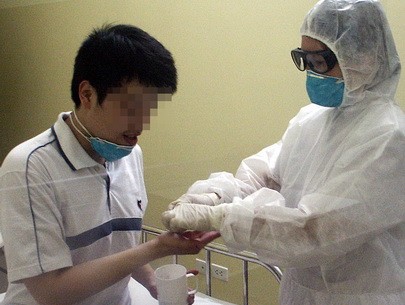 A medic gives  a patient Tamiflu pills  gratis  at the Ho Chi Minh City-based Tropical Diseases  Hospital ( Photo: Tuoi tre)
The deputy minister was speaking after Hanoi's Department of Education and Training decided to shut school doors in the capital.
Sixty-three new A/H1N1 infections - a record number for a single day - were reported on August 14, the Ministry of Health (MoH) said, taking the total number of cases across the country to 1,363.
Of them, 1,024 cases have recovered and been discharged from hospital, with the remaining 399 under quarantine and receiving treatment. All are in a stable condition.
Ten eleventh-graders at Ho Chi Minh City-based Le Hong Phong Senior School were the same day allowed to stay at home as they from suffered flu-like symptoms of cough, soar throat and fever.
Health workers have taken blood samples for tests.
Their classmates were later permitted to stay home and preventive health workers sprayed disinfectant around the school.
The Deputy Prime Minister and Education Minister, Nguyen Thien Nhan, ordered the MoH to guide its subdivisions to tighten prevention of the flu, as well as send a report to assess prevention tasks carried out by relevant agencies and provinces to the Government before August 25.
Regarding public concern that Government stocks of Tamiflu are being secretly sold, the head of Vietnam Drug Administration, Dr Truong Quoc Cuong, told Sai Gon Giai Phong the drug has to be sold with a doctors' prescription.
He said pharmaceutical trading units or pharmacies will be breaking the law if they sell Tamiflu without prescriptions.
Dr. Cuong warned people not to use the pill without advice of physicians, as the drug can cause unexpected problems and raise the possibility of resistance.
Doctors will provide the Tamiflu free if a patient is diagnosed with swine flu.