More white-collar workers and students are reportededly contracting swine flu in Vietnam.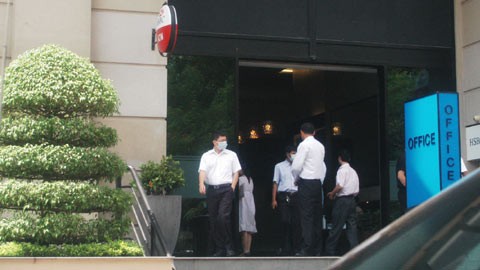 An employee working in an office in Pacific building (in pic) on Hanoi's Ly Thuong Kiet Street is among a growing number of white-collar workers and students contracting swine flu (Photo: VietnamNet))
Chu Minh Ngoc, manager of Pacific building on Hanoi's Ly Thuong Kiet Street, said an employee working on the eighth floor of the building tested positive for the flu.
His eight colleagues have asked for leave to monitor their health conditions. Two companies on the same floor have permitted their employees to stay at home.
Medical workers from the Hoan Kiem District Department of Preventive Health sprayed disinfectants in the building.
The Ho Chi Minh City Department of Health said 16 students at the private Thanh Binh High School in Tan Binh District have been quarantined at school. Medics from the district Department of Preventive Health discovered eight more students of the school and disinfected the school.
Che Guevara High School in the Mekong delta province of Ben Tre remains closed since August 19 after seven 12th graders tested positive. It is the first school in Ben Tre where students have the flu but medical workers have not been able to track its source.
The Ministry of Health announced August 20 a further 67 cases of swine flu, taking the country's tally to 1,743 infections  including two deaths.
Pharmacies are not allowed to sell Tamiflu pills even on doctors' prescriptions, Dr. Ly Ngoc Kinh, head of the Ministry of Health's Treatment Management Department, said. The Government decreed this after, earlier, people began to snap up the drug in panic.
Most patients are tested and treated for free at clinics. But people asking to be tested without doctors' orders will have to pay if they test negative for the disease.
Meantime, the head of the Vietnam Drug Administration, Dr. Truong Quoc Cuong, assured that the ministry can meet the demand for the drug.
He warned people not to hoard or sell the drug at higher prices than regulated.