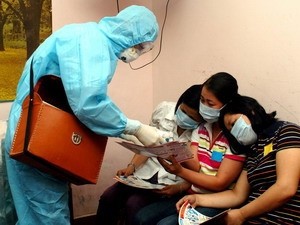 MA medical worker from Hanoi's Department of Health practices for a hypothetical situation (Photo: VNA)
The Ministry of Health September 19 announced 299 more cases of the A/H1N1 flu virus, bringing the country's total number to 6,478 cases and seven deaths.
Of the new cases, 202 patients are in the South, 48 in the North, 37 in the Central region and 12 in the Central Highlands.
Out of the total cases, 4,624 people have recovered and been discharged from hospital, the remainder are currently quarantined for treatment.
The ministry said the flu has now been found away from populous areas and has infected people in rural, distant and mountainous areas.
Anyone who has a high risk health condition should therefore seek medical advice and timely treatment if they develop flu like symptoms, the ministry said.