Terminally ill children suffering from the dreaded cancer disease in hospitals also want to join in the Tet festivities, eat cake, receive lucky money and twigs of bright yellow apricot flower, not knowing if this may be their last Tet Lunar New Year.
Ho Khuong Dang takes a photo with a volunteer (Photo: SGGP)
12-year-old Ho Khuong Dang looks drained of energy and despite being on the drip for a while he makes an effort to smile, thanking the young volunteers who have come to offer him a Tet gift.
It has now been two years since doctors diagnosed him with the dreaded cancer disease.
For 2 years the Tumor Hospital in Binh Thanh District in Ho Chi Minh City has been his home.
His aunt, Ho Thi Van, said they came from Can Duoc District in the Mekong delta province of Long An.
During this period, the boy's parents have sold almost all their worldly possessions in order to cover his treatment expenses at the hospital.
Van said tearfully that the disease had not subsided and the doctors had been forced to amputate the boy's leg. Even though this caused insufferable pain, he just gritted his teeth, sobbed for a while and then resigned himself to acceptance.
In another section of the Children's Ward at the Tumor Hospital, a mother cries with her one-year-old daughter, Nguyen Kieu Anh, as she fails to comfort her.
Many children in the hospital suffer unbearable pain, similar to that of Dang and Anh. They live in the hospital for years; they lose their hair   and their arms are connected to intravenous tubes. The hectic atmosphere of Tet festivities cannot diminish their pain or remove worry of their parents.
Benefactors and volunteers have been visiting the hospital to help ease their pain and play with them so as to offer some respite.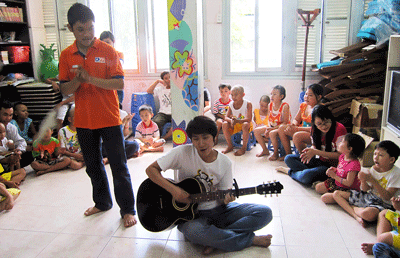 Kids at the Tumor Hospital enjoy fun activities with young volunteers (Photo: SGGP)
Members of the Young Citizens Club of Ho Chi Minh City organized games and gave Tet gifts to kids at the hospital.
A visit of the hospital is an annual event for the club, to help children suffering such agony by sharing with them some happiness and joy during Tet, said Nguyen Huu An, head of the club.
While taking a tour of the Children's Ward in the hospital, International Grandmaster Le Quang Liem of Vietnam was concerned that most of these kids came from very poor families and hoped they could receive more support to help them find relief from pain.
Truong My Linh, a student of the College of Finance and Customs, hoped that love and warmth from people would bring in much joy in their already fragile life, and give them and their relatives the necessary strength to fight the dreaded disease inflicting them.