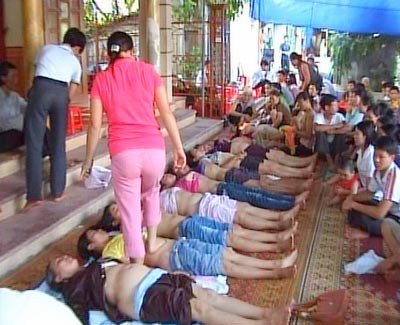 Self-proclaimed doctor Phu treats patients by treading on their bodies (Photo: SGGP)
Inexplicably, the People's Committee of the northern mountainous province of Thai Nguyen has given a woman lacking formal knowledge of medicine a green light to continue her perplexing methodology of treating diseased people by walking on the pained portions of their bodies.
For years, crowds of patients from all over the country have gathered at the house of Pham Thi Phu on Co Street in the country town of Song Cong. Phu is a self-proclaimed doctor an unorthodox treatment methodology of stepping on patients' pain.
The woman, a former vegetable vendor, has proclaimed to possess ability to treat all ailments, even HIV or cancer, after being hospitalized in province hospitals and in Hanoi for treatment for mental illness in 2005.
Although her illegal treatments have taken place for years, the local government could only impose fines, but could not shut the operation, Dang Mong Diep, deputy head of Song Cong People's Committee admitted.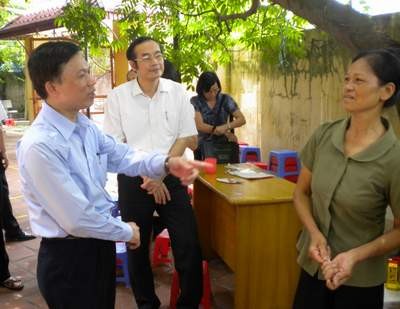 Inspectors of the Ministry of Health question a patient at Phu's house
More unfathomably, the Research Centre of Human Potentials and the Traditional Cultural Supporting Research Center have concluded, after studying her methodology, that her extrasensory perception does improve patients' health, helping to reduce illnesses in some patients.
Two centers have proposed the local government study Phu's methods further to learn how she creates favorite condition to treat patients, despite the Department of Health (DOH)'s affirmation that her methods are not supported by science.
The Ministry of Health has known of the unorthodox treatments taking place at Phu's house for years, but strangely, only sent out a team last week to Thai Nguyen, to investigate the popular unlicensed work, reporting to relevant agencies, dispatching obscure instructions to the DOH.
Public concern has been raised over the People's Committee's decision and that of the two centers, as well as over the tardily taken actions by the ministry.