The Department of Agriculture and Rural Development of the central province of Thanh Hoa has urged localities at different levels to strengthen their monitoring of A/H7N9 avian flu.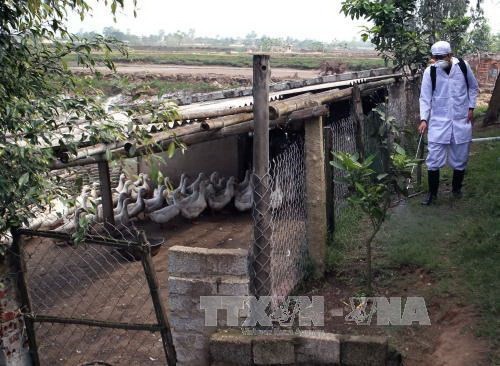 Spraying chemicals to prevent avian flu in Hoang Hoa district, Thanh Hoa province (Source: VNA)
The People's Committees of districts, towns and cities in the province need to early detect outbreaks in order to prevent the disease from spreading while strictly implementing preventive measures instructed by the central and provincial levels, thus minimising damage.
The department has also directed veterinary agencies and other relevant forces to keep a close watch on the transport and consumption of poultry and poultry products in localities they are in charge, as well as implement strict supervision and quarantine of poultry supply from outside.
Communication work needs to be promoted to raise the awareness of the disease among local poultry breeders, while local residents are encouraged to proactively detect and supervise the disease as well as not involve in selling, transporting or slaughtering illegally imported poultry.
Authorised agencies should closely supervise areas where fowls and their products are gathered in order to promptly deal with the transport and trading of smuggled products with unclear origin.
Localities have been urged to accelerate the implementation of the first phrase of the province's vaccination programme and disease prevention plans for poultry and livestock in 2017.
Breeders have also been called to clean their barns, poultry selling and buying places, and slaughterhouses, particularly in areas of high risk, to minimise disease sources while taking better care of their poultry flocks.
Le Van Luan, head of the provincial Department of Animal Health, the sector has focused on human resources training, technology transfer and equipment procurement to better screen and prevent avian influenza. Therefore, no outbreak has been reported in recent years.
In 2016, the province's vaccination programme surpassed its target by 3 percent. More than 5 million fowls have been injected, accounting for 93 percent and exceeding the target by 2 percent.
Many localities have completed the vaccination programme, namely Nong Cong, Trieu Son, Thieu Hoa, Vinh Loc, Thach Thanh and Nhu Thanh districts, and Thanh Hoa city.