Free injection to prevent 10 diseases for children
In a talk with Sai Gon Giai Phong (SGGP) reporter on May 15, Dr. Nguyen Dac Tho, Vice director of the Ho Chi Minh Preventive Health Department( PHD), said that in a past few days health officials faced with difficulties in inviting parents to bring their children to the health units for free injection in "the national open injection program"(NOIP).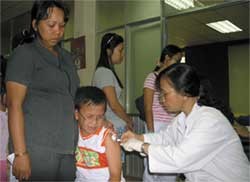 At a health unit, doctor injects a child
Dr. Tho emphasized that all vaccination in or out of NOIP has taken place as normal in the city. However after the accident happened in district 5, Health Department has requested a halt in vaccination only in the district 5 to calm down parents and to reduce pressure for health officials.

The suspension will last for one week; after that the Ho Chi Minh and district 5 PHD will provide injections again.

PHD has just directed the preventive health teams and health units in other districts to check vaccine preservation processes and injection techniques to ensure they are in line with Health Ministry's regulation.

Children have free vaccination to prevent 10 diseases of diphtheria, measles, whooping-cough, poliomyelitic, tetanus, tuberculosis, hepatitis B, Japanese encephalitis, typhoid and cholera. At the health units, such vaccines to prevent hepatitis B, tetanus, mumps, rubella, Japanese encephalitis are available for people in need.
Possible reactions after vaccine injection
Dr. Nguyen Dac Tho said that vaccine property is to stipulate the immunity system to react against the vaccine. Such symptoms as fever or bodily reactions might be part of immunity adaptation. People who suffered serious shocks can be saved if they receive suitable and timely treatment.

Reactions to vaccines to prevent measles-mumps-rubella are up to 10%; the percentage of having fever over 38 degrees Celsius is 5%-15 % and of having rash is 5%. Effective reliefs for such symptoms are serum injection, ice bag put on the injected body spot or taking paracetamol to reduce fever.

When these abnormal symptoms appear on the injection recipient, it is necessary to tell heath officials or promptly take them to hospitals.

For example, 24 hours after being injected, they can have symptoms such as anaphylactic shocks, cry continuously over three hours, reduce reflexes, contaminated shock; after five days, they have contaminated blood, abscess at the injected body spot, convulsions; after 15 days, they have brain syndrome; after three months, they get paralysed in arm or arm nerve inflammation.

Therefore, people need to inform doctors of their health history so that doctors will decide to inject or not. Reactions after being injected are in fact diseases happening but people usually think it due to vaccine or injection process.
Health minister requested to focus on dealing with the matter
Nguyen Van Binh, Vice Head of the Preventive Health Department of Health Ministry said that World Health Organization (WHO) experts have come to Viet Nam on May 15 upon the invitation of Viet Nam Health Ministry for a joint investigation with Vietnamese experts of Health Ministry into the vaccine quality, the cause of the accident and measures to solve the problem. On the same day, health minister requested the relevant organizations to focus on dealing with the issue.
Up to now, expert team of Health Ministry has finished sampling vaccine to independently test vaccine of the lot. It is expected, it will take a long time to produce result.

Reportedly, WHO office in Viet Nam has informed of the accident to WHO agency in the region and asked for experts to come Viet Nam in emergency situation.