Health Minister Tran Thi Trung Chien convened a meeting with medical department leaders, agency officials and leading scientists in the wake of the deaths of three newborns over the last two weeks.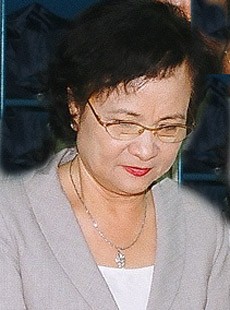 Health Minister Tran Thi Trung Chien ( Photo:U.Phuong)
All three infants died after receiving a routine Hepatitis B vaccination produced in Korea. Following the deaths, the Ministry of Health banned the vaccine, which until now has met 60 to 70 percent of the country's demand.

Mr. Nguyen Tran Hien, Director of the National Institute of Hygiene and Epidemiology briefed reporters on the meeting's outcomes.

He said that the Ministry decided to establish three science councils, one to find an alternative vaccine source, one to steer the National Immunization Program and one to pinpoint the exact cause of the infant's deaths.
Of the three tasks, the Health Minister stated that finding a replacement source for the vaccine has top priority. For now, the National Institute of Hygiene and Epidemiology will produce more of the drug and the Ministry will ask the World Health Organization (WHO) and UNICEF to provide some as well.

Asked about what will happen in the meantime, Mr. Hien said  it will not pose a serious problem if the child must wait one or two months for a new supply of vaccines to begin arriving.
Health authorities instructed hospitals and clinics to use vaccine produced in Viet Nam on infants who had already received their first injection.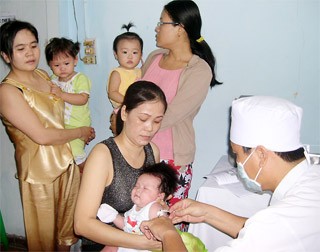 Mothers should continue getting their children vaccinated
Answering questions about what progress has been made in the investigation into the cause of the infant's deaths, Mr. Hien said that investigators require more time to look at issues such as vaccine quality and inoculation procedures.

In addition, Mr. Hien advised mothers to continue getting their children vaccinated because, thanks to rigorous immunization programs carried out over many years, most of these diseases are now at their lowest levels ever.
According to WHO guidelines, babies must be inoculated within 24 hours of being born, he said, adding that mothers should monitor the  child's condition and keep medical workers informed should the baby become weak or ill.

According to a survey carried out by the Sai Gon Giai Phong, foreign-made Hepatitis B vaccines are available in some medical clinics in Ho Chi Minh City, including the Pasteur Institute, the Tu Du Maternity Hospital and the Preventive Medicine Department at Pediatrics Hospital 1.