Pham Thanh Binh, head of the Animal Health Department in the central province of Ha Tinh, on March 1 announced the outbreak of   three fresh bird flu cases in the province.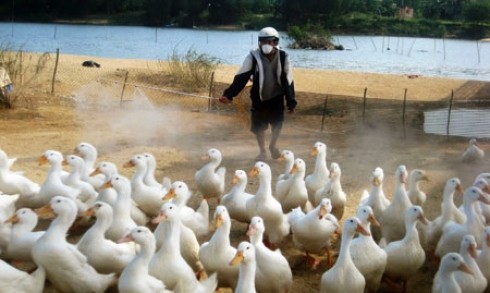 A veterinary worker sprays antiseptic at a duck farm in Quang Nam's Duy Xuyen District to prevent the spread of the H5N1 avian flu virus (Photo: CAND)
Bird flu has re-occurred in Cam Huy and Cam Quang Communes in Cam Xuyen District and Huong Long Commune in Huong Khe District of Ha Tinh Province, killing nearly 3,000 birds in the three districts alone.
Ever since bird flu reoccurred in early February in the province, 32 households have been compelled to destroy over 13,300 poultry.
All water fowl in the central province of Quang Tri have been totally destroyed, and in Hai Lang, Trieu Phong, Gio Linh Districts and in Quang Tri town, over 10,000 have been buried, so has to curb further spread of the deadly virus.
Meanwhile, veterinary doctors in the central province of Quang Nam have vaccinated 470 poultry.
On February 29, the People's Committee officially declared bird flu pandemic in Dien Phuong Commune in Dien Ban District and Dai Hung Commune in Dai Loc District.