The Department for Preventive Medicine and Environment confirmed on October 27 three more deaths due to the A/H1N1 virus, bringing the death toll to 35 so far.
One of the cases was in the central region and the other two were in the Central Highlands, including an infant under the age of one year.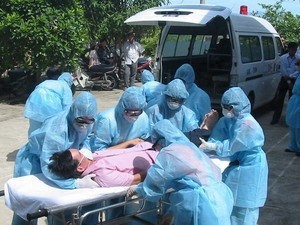 Medics take a flu patient to hospital (Photo: VNA)
Ignorance of the severity of the disease and late hospitalisation were blamed for all these deaths.
One case, a man in the central city of Danang was said to have treated himself at home for four days with a self-prescription. He even went to the Central Highlands province of Kon Tum on October 18-19 on an assignment when he was already suffering from a high fever. Brought to the Danang hospital on October 21, the 41-year old man was diagnosed with an A/H1N1 flu virus-related pneumonia and died on October 24 despite having been promptly treated with Tamiflu. Two days later the Nha Trang Pasteur Institute confirmed that he tested positive for the epidemic.
The other case in the Central Highlands province of Dak Lak was a 27-year old man. He was brought to the provincial hospital on October 9 for the treatment of chronic malaria. On October 13, the patient had a high fever, heavy coughing and was suffering breathing problems. Although he tested positive for the A/H1N1 flu and was under strict treatment with Tamiflu and anti-biotics, the man fled the hospital at 18h30 on October 13 and died at his home on October 15.
The last case was a 10 month-old girl also in Dak Lak province. She was only brought to the hospital four days after catching high fever and coughing hard with sputum. The little girl was in such a critical condition at the time of hospitalisation that there was little chance of survival despite a full treatment of Tamiflu and anti-biotics. She tested positive to the virus on October 21 and died five days later.