The Drug Administration of Vietnam on July 9 announced the suspension of three substandard medicines.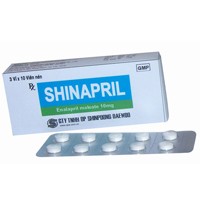 Shinapril is one of three substadard medicine the Drug Administration of Vietnam decides to suspend
CURECEFIX, production lot: 8001, production date: May 2008, expiry date: May 2010, registration number VN-2684-07, produced by Curemed Healthcare Co. Pvt. Ltd India.
It has been withdrawn for not incorrect contents.  
Shinapril tablet, production lot: SNT.7001, expiry date: November 2009, registration number VD-3241-07, produced by Shinpoong Daewoo Pharma Co. Ltd.
It was withdrawn for not achieving required dissolving levels and quality.
BIOLAC enzyme, production lot 100908, production date: September 2008, expiry date: September 2011, registration number QLSP-0046-08 and production lot 110507, expiry date: May 2010, registration number NDP-120-1202.
This was withdrawn for substandard quality.
The Drug Administration requires producers, distributors and sellers to withdraw the medicines from sale.