The parents of a 16-year-old schoolgirl left in a vegetative state by a tonsillectomy are planning to pawn their certificate of home ownership to settle their daughter's medical bills.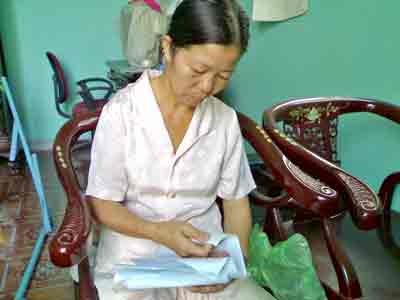 Pham Thi Thu H's mother searching for the certificate of the house for pawning(Photo:SGGP)
Pham Thi Thu H. from 435 quarter 7 in District 2 had her tonsils removed at the district hospital on May 27. However, she lost her consciousness during the operation and has been in vegetative state ever since. The bony 45-kilogram schoolgirl is now virtually unrecognizable. 
Her mother, Mrs. Ngoi, said that doctors rushed her daughter to People's Hospital 115 after problems developed during the surgery. After 50 days in intensive care, the girl remained insensible with her limbs all curled up.
District 2 Hospital Director Truong Thanh Trung said his doctors carried out the operation properly but problems arose because the girl had a very narrow glottis, a complex structure that forms the gateway to the lungs and which produces speech.
Trung said the patient should have had CT scans to measure size of the glottis and check for any laryngeal disorders. However, such scans were expensive.
The question now is how much responsibility should be borne by the hospital. The hospital is paying for the patient's medicine, meals and transportation. The family has little money and her parents have been unable to work because their daughter needs so much care.
To pay their daughter's mounting medical bills, they are planning to pawn the certificate of house ownership.
Since the accident, no one from the hospital or any local authorities had visited the house to ask after her daughter's wellbeing, Mrs. Ngoi said.