With swine flu fears hitting tourism, the Vietnam National Administration of Tourism (VNAT) and the Ministry of Culture, Sports and Tourism announced a clutch of measures to address the problem at a press conference in Hanoi on August 13.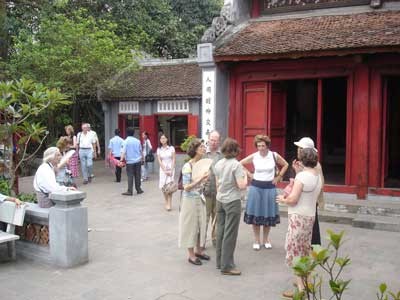 Foreign tourists visit the Temple of Literature in Hanoi (photo: VH)
Vu The Binh, head of the VNAT's travel department, said they include flu-prevention measures by the Ministry of Health and exchange of information between tourist operators and their foreign counterparts about the status of the disease in Vietnam.
The VNAT is encouraging companies to adopt initiatives like insurance for travelers.
It will help tourism operators by updating its website with information about the pandemic and treatment in a manner that does not cause alarm.
A VNAT official said only 2.2 million foreign travellers arrived in Vietnam in the first seven months, 18.7 percent lower than last year.
But thanks to tourism stimulus policies and the "Impressive Vietnam" campaign, the number of domestic visitors has seen a year-on-year increase of 13 percent, with the tourism sector raking in an income of around VND32.4 trillion (US$1.82 billion) in the first half. In Ho Chi Minh City there was an increase of 30 – 50 percent in registrations for local tours after prices were slashed by 30-40 percent.
Until the end of the year, the tourism sector will carry out a series of national promotions for the 1000th anniversary of Thang Long-Hanoi and National Tourism Year in 2010.
Meanwhile, health authorities said 25 more people tested positive for the A/H1N1 flu on August 13, bringing the total victims to 1,300, including two deaths.
So far, 1,001 patients have recovered and been discharged from hospital. The remaining 299 are in quarantine and being treated. All are in stable conditions.
Under the health ministry's new guidelines for treatment, people with flu-like symptoms will be treated without tests and they can leave hospital after three days.