Health authorities in Vietnam are keeping a close watch on brands of instant noodles which have been made in Korea and suspected of containing the chemical DEHP.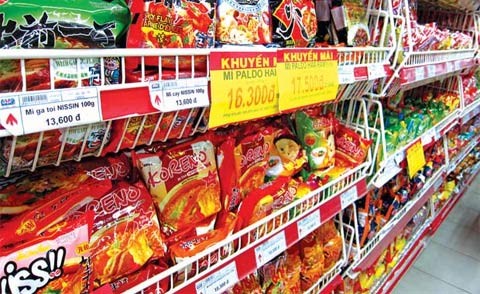 A variety of instant noodle brands in supermarkets across the country
Vietnam is in touch with other countries for further confirmation on this.
Nguyen Cong Khan, head of the Food Safety and Hygiene Department, said yesterday that the Vietnamese Ministry of Health had contacted Malaysian health authorities but the authorities there are said not to have recalled the product until it was officially tested.
Dr. Nguyen Thi Huynh Mai, deputy head of the Department of Food Safety and Hygiene in Ho Chi Minh City said after Hong Kong declared that Korean brands of instant noodles, namely 'Shin Ramyun' and 'Shin Ramen' contained the cloudy agent DEHP, health inspectors had taken samples from supermarkets for testing and the results with be announced very soon to the public.
The Department of Food Safety and Hygiene in the southern province of Dong Nai found some contaminated products in the Metro supermarket including 152 kilograms of Taro jelly by New Choice Food Company. On the same day, the department sent a dispatch to its district sub-divisions to recall 30 items of contaminated syrup, fruit juice and sweets.