Inspectors from the Ho Chi Minh City Health Department contacted the Tay Ninh Health Department on April 15, asking them to dispose off all stocks of Dong Co soy sauce as it contained high levels of 3-MCPD (3- Mono Chloropropane Diol), a cancer causing toxin.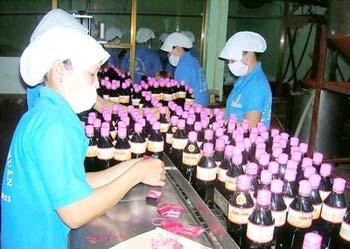 Soy sauce bottling plant in HCMC (Photo: SGGP)
Dr. Pham Kim Binh, deputy chief of the HCMC Health Department said that the Tay Ninh Department of Market Management has taken back large amounts of Dong Co soy sauce already. 
She said that inspection teams continue to collect soy sauce samples from the market for quality check and 3-MCPD content. The inspection is part of 'Action Month for Food Hygiene and Safety' for this year.
According to the HCM City Health Department, soy sauce is again back in the market with brand imitations and un-hygienically made products.
Earlier, the HCM City Department of Food Hygiene and Safety had warned people not to consume Dong Co soy sauce as it contained high levels of 3-MCPD. Tests done by the city Institute of Public Health and Hygiene found Dong Co soy sauce to contain 200 times higher 3-MCPD than permitted levels.
Last year, relevant authorities had seized and destroyed over 2,300 kilograms of soy sauce because of high levels of 3-MCPD and poor quality standards.
In 2007-2008, most of the soy sauce productions moved to neighboring provinces like Long An, Binh Duong and Tay Ninh after strict inspections were conducted in the city. However, the main consumption market is still within the city.