Public concerns about food safety in HCMC have returned following the discovery that additives used for cooking curry and stewed beef dishes were contaminated with industrial dye Rhodamine B.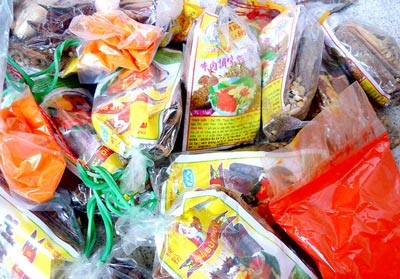 Rampant contaminated spices  sold in markets , especially in wholesale markets Kim Bien and Binh Tay (Photo: SGGP)
Ho Chi Minh City Department of Health inspectors announced four food manufacturers had breached food safety regulations for selling products containing cancer-causing chemical Rhodamine B, used as a dye and as a dye laser gain medium. The workshops include Kim Nga and Kim Thanh companies.
Huynh Le Thai Hoa, head of Food Safety and Hygiene Bureau spoke with SGGP saying that many bogus additive manufactures distribute their products markets themselves without official permission.
Flavoring with unclear origin was being sold openly at local markets without control. At Kim Bien wholesale market in HCM City, a Sai Gon Giai Phong reporter impersonating a sidewalk eatery vendor was guided to gate No. 5 where many stores were selling food flavorings.
A saleswoman at a store C.P introduced different kinds of flavorings including coffee, butter, cocoa, milk, chicken, onion, beef and fruit flavors, which were sold in big plastic cans and small jars, saying to use only a spoonful to achieve the desired taste. She showed a plastic 250 ml can, which had a label identifying that it was made in Singapore but showed no brand name, expiration date or name of importer.
In front of the store C.P, a man was manually filling small bags from a large plastic sack. He said it was a pigment for furniture polish that was also used to add to rice vermicelli and sour crab soup as it was three times cheaper than the legal food color.
Meanwhile, shops in Binh Tay market in district 6 greeted customers to buy food flavorings and spices. Shop 181 C.T. introduced several flavorings including one from Kim Nga workshop to cook soup. The powder, which smelled mouldy, was labeled with contents of star anise, false cardamom, cinnamon bark, coriander seeds, whole cloves, dried tangerine peel and fennel seeds.
Health officials said the Food Safety and Hygiene Bureau would trace manufacturers of unregulated food additives, to dish out harsh punishments and confiscate offending products.