After receiving several complaints from patients visiting traditional Chinese medicine clinics in Ho Chi Minh City, health authorities inspected these facilities and were horrified with the conditions, management practices and total violation of rules.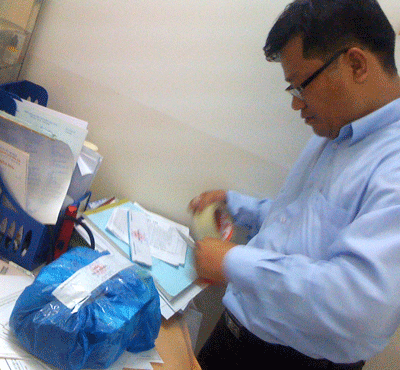 An inspector sealing unlicensed drugs for sale in Vietnam (Photo: SGGP)
A traditional Chinese medicine clinic at 141 Phan Dang Luu Street in Phu Nhuan District was caught overcharging patients beyond the amount quoted in its advertisements; rather it was seen to patronize only those patients who seemed to be more affluent.
Pham Kim Binh, head of the health inspection team visited the above clinic on June 18 and noticed many irregularities such as absence of the clinic owner, health workers who did not have licenses or legal work permits and sale of unapproved and illegal medicines.
In addition, the team found an assortment of medicines, transfusion fluids and injections bearing Chinese markings that were being used in the clinic even though they did not have approved license to sell in Vietnam.
Moreover, the clinic says it is running only as a traditional oriental medicine clinic, but it practices other health services like obstetrics, ultrasound and diagnosis testing.
One of its victims was a woman from the southern province of Dong Nai who saw an advertisement on advanced techniques to treat haemorrhoids without pain and guaranteed 100 percent recovery. 
She had come to the clinic two months ago for treatment and was charged VND15 million (US$750), yet she still continues to suffer from the ailment.
Similarly, a traditional Chinese medicine clinic at 46 Hoa Binh Street in District 11 was found with no Chinese doctor or responsible pharmacist as they had left the clinic before the health inspection team arrived.
The inspectors however found plenty of expired medicines of Chinese origin in stock at the clinic. According to a clinic representative, these medicines were going to be destroyed. Moreover, inspectors also found out a medical record of a young girl who had visited the clinic for an abortion, which is a malpractice and against rules.
Tran Thu Huong, head of the district department of health added that the clinic had fallen foul of the law before and had been fined VND15 million ($750).
Even though it was only a traditional oriental medicine clinic, the clinic had carried out many unlicensed health services in obstetrics, ultrasound and diagnosis testing.
With many tricks to deceive gullible people from the rural areas, such clinics hire teams of people to stand at crossroads to issue flyers to lure people, and also advertise in small magazines for providing modern treatment to prevent premature ejaculation, abortion using advanced technique or hymen reconstruction surgery.
Dr. Le Minh Hai, head of the management board of private medical centers in HCMC said the city has three clinics with 100 percent Chinese investment and five others registered to have Chinese medics.
Health watchdogs check carefully before giving business certificates but Hai admitted that it is hard to discover wrongdoings at these traditional Chinese medicine clinics because they have many tricks to extract money out of patients and evade inspections.
Moreover, light penalties of VND15-20 million cannot deter such clinics from committing violations, according to Dr. Pham Kim Binh, deputy chief inspector of the Department of Health.